As part of our full turn-key solution, Light Fibre offers our customers a full range of services, from Long Haul Telecommunications, Fibre Optic Infrastructure, FTTX, FTTH, Electronic System Integration, Fibre Optics, Radio Towers, Fibre Splicing and Testing, the latest 5G technology, and complete tower builds. We ensure the success of each project thanks to our in-house Engineering, Project Management, Construction, Quality Control and Logistics Teams. Learn more about our unique service offerings and solutions.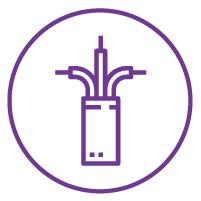 Fibre Installations
Fibre optic infrastructure solutions
We specialise in building better connections for existing ISPs and end-users. Light Fibre surveys, designs, builds, and maintains various fibre optic solutions. After laying down record-worthy Long Haul Telecommunications lines, we have since expanded our expertise to include Metro, FTTH (Fibre Installations to the Home), FTTB (Fibre Installations to the Business), and FTTX (Fibre Installations to the Point) solutions. Our specialist teams manage the execution of our Fibre Optic solutions from initiation right through to hand-over.
Collectively, the operational, technical, and management staff of Light Fibre have decades of in-depth knowledge and experience in installing, splicing, terminating and testing both single and multimode fibre. Light Fibre can offer a complete solution to meet your individual needs. Find out more about optical fiber.
Fibre Installations
Fibre cable supply and installations
Fusion splicing of single and multi-mode fibres
Optical Distribution Frame (ODF) installation and fibre termination
Fibre audits on existing networks
Fibre management solutions
Fibre blowing
Fibre Floating
Our fibre installation teams are multi-skilled in all aspects of fibre provisioning and our equipment is world-class, as well as serviced regularly and calibrated to factory specifications. Our staff is well versed in the testing of various duct infrastructures all in line with our clients' requirements. We pride ourselves on the growth and development of our staff, and as such, we adopt strict training standards, both theoretical and practical. Only the "cream the crop" are selected to be part of the technical team.
Equipment
Kaeser High-Pressure Compressors
Airstream floating machines
Plumett MiniJet floating machines
DIT banks
Cable trailers
Fibre capstan winches
Fibre Splicing & Testing
Light Fibre uses only the highest quality splicing and testing equipment. Our fibre technicians are hand-picked by the head of our technical team who ensures that the utmost standards are adhered to by employing highly trained, experienced, and dedicated professionals who work strictly in accordance with best industry practices.
Equipment
Sumitomo 71C splicing machines
Power generators
7030 MAX tester with ILOM software Exfo
OLTS testing (Power Meter Light Source)
FTB200 OTDR Exfo
CD / PMD tester Exfo
Nettest CMA4000 SM OTDR
MM OTDR Exfo
Noyes insertion loss test kits
OTDR FTB 500 Exfo
Fibre Optic Infrastructure Maintenance
We pride ourselves on our world-class service and excellent turnaround times and do everything in our power to make sure our customers can stay connected. As a value-added service we also provide maintenance on our fibre optic systems and infrastructure, leading to reliable connections and minimum downtime if anything happens. We take care of anything from ensuring that all manholes are clean of weeds and soil, to making sure our overhead fibre optic infrastructure remains undisturbed. 
Equipment
Sumitomo 71C splicing machines
Power generators
7030 MAX tester with ILOM software Exfo
OLTS testing (Power Meter Light Source)
FTB200 OTDR Exfo
CD / PMD tester Exfo
Nettest CMA4000 SM OTDR
MM OTDR Exfo
Noyes insertion loss test kits
OTDR FTB 500 Exfo
Light Fibre offers a full range of electrical, internal reticulation, and installation services. All electrical work is carried out by our fully qualified technicians who always adhere to the electrical regulatory standards. We also provide equipment installations throughout most African countries and within various networks, ranging from small single-shelf installations to full turnkey projects. Our extensive quality management, constant engagement, monitoring, and reporting is what gives us the edge.
Conventional pipe laying construction methodology has a high impact on the environment. However, our plough system can be utilised in highly sensitive areas because of its low environmental impact. Within a single and swift operation, the plough makes a narrow slit in the earth while several pipe variations can be laid at the base of the slit, all at once! Add to that our team of expert Surveyors and Project Managers, and rapid deployment with a significant reduction in costs is no longer just a pipe dream.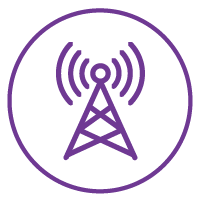 Recognising the challenges and specialist requirements of wireless network developments, Light Fibre has a strong core of specialists, equipped with the knowledge, tools, and partners to ensure the timeous commissioning and successful long-term operation of your network. Our experience includes fixed microwave links, cellular networks, private mobile radio, fixed radio access, and telemetry systems.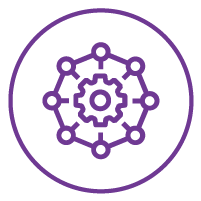 We can satisfy all tower build requirements, including monopole or post masts, guyed towers, as well as self-supporting and roof towers. We provide the full suite of tower build solutions to existing and greenfield projects. Light Fibre's operational experience is incorporated into each project thanks to our specialist Design and Engineering, Project Management, and Consultant Teams. Our expertly designed and constructed towers are a cut above the rest, and our services include:
Plinth to container builds;
Rooftop builds surveys for mini D and standard manufactured containers;
NNOC alarm connections for security and monitoring;
AC and rectifier installations and connections with battery bank back-up;
Mast and tower erecting, linking the tower with RF, or fibre optic to antennas;
FTTS for new tower builds;
ISP work from OSP to Container; and
Equipment installation (CTN) and connection of fibre.
The types of towers we build include:
Lattice or self-support towers;
Guyed towers;
Monopole towers; and
Concealed towers.